How do you convince your boss that attending the STC Summit is a smart investment? Build a business case that connects your organization's needs with the Summit program.
Where to Start
If you've never written a business case, start by reading the Intercom magazine article How to Build a Business Case by Jack Molisani and Bonni Graham (in PDF format).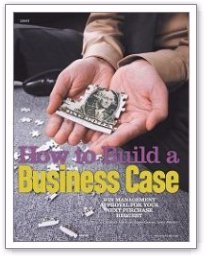 Next, list all the challenges you encounter in your job and how those situations cost your company time and money.
Then review the conference Schedule and highlight the sessions and workshops you think will address those challenges.
Build Your Business Case
To write the business case, use a detailed template or a simple one. Show how the sessions you want to attend will help your organization.  (Remember to say what's in for the organization, not what's in it for you.)
Have you been working long hours? Back-to-back deadlines? Due any comp time? Mention to your boss that you have been contributing far above-and-beyond a normal 40-hour work week, and that attending the conference will not only result in the cost savings you outlined in the first part of your business case, but it will also pay back some of that comp time you have accrued.
Here are a few additional examples of the benefits of the STC Summit:
60+ education sessions on content design and delivery; tools and technologies; and management and career development.
Preconference workshops and STC Certification training — in-depth training on a variety of popular topics. See this year's schedule here: https://summit.stc.org/preconference/.
Invited sessions by industry leaders.
Exhibit Hall — information about tools and services that could improve systems and processes, and the opportunity  to meet vendors of the ones we currently use.
Networking opportunities with colleagues and vendors who can be future resources on technologies and processes.
The STC Summit is an investment in your career, so even if your company can't reimburse your attendance this year, you should consider funding this event yourself. What you will learn will be invaluable to you and your career for a long time to come! And STC attendance provides 8 CEUs toward CPTC certification credts.
Event: 2022 STC Technical Communication Summit
Dates: 15-18 May 2022
Location: Rosemont (Chicago), Illinois
Registration fee: Fill in the amount based on date and your membership status
Hotel rate: $199, plus 14% tax per night
Estimated travel expense: From your location to O'Hare International Airport; the Hyatt offers complimentary shuttle service between the hotel and the airport