CORNERSTONE GENERAL SESSION
Monday, 18 May 1:00 PM Eastern
Dona Sarkar
I believe the 7.6 billion people we share this earth with can and SHOULD develop technical skills to help achieve their goals and am fortunate to have a job where I can make that happen.
I spend my days heading up an advocacy team for the Power Platform at Microsoft, a product that helps non-coders build things to solve their business problems and grow their careers.
Previously, I led the global 17M community of the #WindowsInsiders program and worked on advocacy for Microsoft HoloLens.  I spend my side-hustle time writing fiction and non-fiction books to help young professionals have the careers of their dreams; running an ethically made fashion line called Prima Dona that's tailored in Nigeria, Kenya, Indonesia, Detroit and Seattle; coaching entrepreneurs in emerging markets on how to turn ideas into profit; sharing these stories on stages all over the world; and coming up with more exciting schemes.   My favorite, FAVORITE job is being a bossy big sister to thousands of amazing humans who want to #DoTheThing.  I was recently named one of Fast Company's 100 Most Productive People and Cosmopolitan magazine's Businessperson of the Year.  I love making new friends, so please come and say hi at  http://donasarkar.com.
CAPSTONE GENERAL SESSION
Wednesday, 20 May 11:00 AM Eastern
How to Build a Thriving Career in the Age of Uncertainty
You've probably heard that artificial intelligence (AI) and other technologies are replacing jobs. If we inspect those claims more closely, the data actually shows that advancements in technology are going to create as many – if not more – new jobs. The challenge for each of us is staying relevant in the constant shift.
Join career futurist Marie Zimenoff to learn how you can create a portable career by adopting new aptitudes, attitudes, and actions. We'll demystify the data around the future of work, explore trends in hiring technology, and outline practical steps you can take to build your visibility, agility, and prosperity today and in the future. You'll walk away with an action plan for putting your conference learnings to work for your career agility and advancement!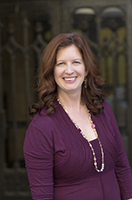 Marie Zimenoff, M.Ed., NCC
Marie Zimenoff, CEO of Career Thought Leaders and Resume Writing Academy, knows career services have the power to change lives. She began her professional career as an advisor and recruiter for the Colorado State University mechanical engineering graduate program while completing her Master of Education in Human Resource Studies and Career & Counseling Development. In 2008—the peak of the Great Recession—Marie left the university to start her business. Inspired by a passion to make a difference in the industry, she trains career professionals around the globe in resume writing, career coaching, and business development. She has delivered hundreds of career and leadership development programs, designed curriculum, and provided staff training in workforce, corrections, university, community college, and business environments.