Special Conference Room Rates
STC has negotiated a special conference room rate of $164 (plus 12.27% tax) for single or double accommodations at the Hyatt. This is lower than last year. And new this year, all attendees who register through the STC block get free in-room Internet! You must register with the STC block to ensure this rate and get free in-room Internet access. Register online at https://resweb.passkey.com/go/STC2014.
[hr_divider]
Note: STC does not contract with travel agencies to contact exhibitors or attendees to make their hotel reservations. If you are contacted by any company requesting information to make your hotel reservation do not respond. STC does not sell exhibitor or attendee information to third parties for marketing purposes. The vendors that STC selects do not sell contact information to third parties. Please make your hotel reservations directly with the Hyatt Regency when registration opens, or by calling their central reservations number.
[hr_divider]
Why stay at the official conference hotel? 
Staying at the official conference hotel benefits both you and STC. Here are a few reasons to stay in the
Hyatt Regency Phoenix
for the Summit.
[list type="disc" position="left"]
Convenience. All education sessions are held in the Phoenix Convention Center, just steps from the Hyatt Regency.
Networking. There are so many informal networking opportunities beyond the official conference hours. Impromptu dinner parties start in the hotel lobby, hotel restaurants are full of Summit attendees, and the hotel bar is packed well into the night with all sorts of conversations, debate, and networking. You'll bump into technical communicators from around the world in all parts of the hotel.
[/list]
[list type="disc" position="left"]
Help keep Summit prices down. Meeting our contracted room block enables STC to continue to negotiate affordable room rates for future meetings. Based on the number of rooms blocked, hotels will provide complimentary meeting space, which enables STC to offer discounted registration fees for a longer period of time.
Assistance from STC. And finally, by staying at the official conference hotel, you'll have STC's assistance if there is a problem with your hotel reservation.
[/list]
---
Hotel Overview
Discover the vibrant heart of the Southwest at Hyatt Regency Phoenix. Set within the center of this cosmopolitan city, our hotel is an urban oasis of comfort and calm. From spacious suites to delicious dining and beyond, we invite you to immerse yourself in the very essence of downtown Phoenix.
Here are just a few of the ways you can enjoy your stay:
•    Unwind in spacious guestrooms and suites with scenic views of the valley and the city skyline
•    Explore the Southwest, tour the city's sights by helicopter, discover something new at a local museum or browse nearby shops
•    Experience our vibrant location, situated between the desert and the mountains
•    Invigorate your stay, with a visit to our outdoor pool and take a relaxing dip in the hot tub
•    Treat the family to something unforgettable, with activities to entice mom, dad, the little ones and everyone in between
•    Indulge in masterfully crafted culinary options, all thoughtfully sourced and carefully served
•    Unleash your potential with a memorable meeting, or a special event that promises to surprise and inspire
Enjoy easy access to the best of Phoenix, surrounded by panoramic city and valley views, delicious dining and new experiences..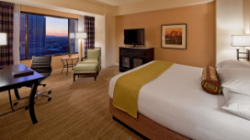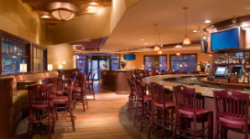 [list type="disc" position="left"]
693 spacious guestrooms, with mountain or downtown views
E-Concierge, for those who like to plan ahead
48,000 square feet of function space, including multiple meeting rooms
24 hour StayFit gym, with the latest training equipment
Fast Board
Business lounge
Car rental desk
Valet and self-parking
[/list]
[list type="disc" position="left"]
Multiple dining options, including Networks Bar and Grill, Compass Arizona Grill, Terrace Cafe, Einstein Bros. Cafe, and Compass Lounge
Currency exchange
Outdoor pool, hot tub, spacious sun deck with lounge chairs
YogaAway
Garden Terrace Courtyard
Personal Preference Dining
[/list]
[hr_divider]