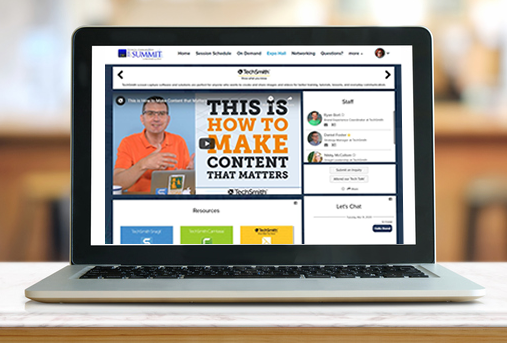 Visit with the exhibitors in the Expo Hall to hear all about the latest methodologies, tools, and technology to help you in your tech comm quests.
Sunday, 17 May: 12:00 PM to 5:00 PM Eastern
Monday, 18 May: 8:00 AM to 5:00 PM Eastern
Tuesday, 19 May: 8:00 AM to 5:00 PM Eastern
Wednesday, 20 May: 8:00 AM to 11:00 AM Eastern
Sponsored Sessions
Tuesday, 19 May
9:00 AM Eastern
Tech Talk Presented by Stilo
Patrick Baker, VP Development & Professional Services
AuthorBridge – DITA Authoring for Subject Matter Experts
You've taken the plunge into DITA. You know that it's going to be worth it, but there are challenges, and you're getting some push back. You need to make DITA accessible to your writers and subject matter experts. AuthorBridge was built to help. See how AuthorBridge makes the tricky things easy, and the really tricky things, well… less tricky.
Tuesday, 19 May
11:00 AM Eastern
Tech Talk Presented by Stilo
Helen St. Denis, Conversion Services Manager
DITA and Deadlines: How to Get your Legacy Content into Good DITA While Still Doing Your Day Job
Your organization is moving its content to DITA, for reasons possibly including:
to save money on translation,
to enable multi-channel publishing,
to improve time to market, and
to improve accuracy and consistency.
You need to convert your current documentation to quality DITA that works for these purposes. You also have deadlines and release dates to meet. How is it possible to do all of that? We can help.
Tuesday, 19 May
1:00 PM Eastern
Tech Talk Presented by 36Software
Lisa Pietrangeli, Executive Director of Business Operations
SmartDocs: Complete Content Management in MS Word for Technical and Medical Writers
SmartDocs transforms Word into an easy content management solution. Your team will:
Continue working in Microsoft Word.
Share, track, and control reusable content.
Generate multiple variations out of a single master.
Customize document automation.
Save time. Save money. Immediately.
MS Office, including Word, is used by over 1.2 Billion people worldwide. We are all among those people. And many of us feel that we need more than what Word provides us – especially in terms of Content Management and Reuse capabilities.
SmartDocs remains the Global Leader in MS Word Content Management and Document Automation Software. Affordable and scalable for any size team.
Don't want to wait? Request a free trial today! http://www.36software.com/smartdocs/try-and-buy/free-trial
Or, check out some quick video previews of some of the many reasons why your company will love SmartDocs. http://www.36software.com/smartdocs/features
SmartDocs Benefits & Features:
Reliable reuse of content within the Microsoft Word environment.
Easy to learn and use.
Scalable for any size team. SmartDocs is the "not too big solution."
Saves time and improves quality. Writers access content that's already been reviewed, and approved.
It's affordable, and just a fraction of the cost, training, and set-up time to XML or DITA-based CMS solutions.
A completely centralized, collaborative environment for your team or entire company.
Document Automation with SmartBuilders. Interview-style wizards that you design to automatically assemble documents out of existing content and consistent information.