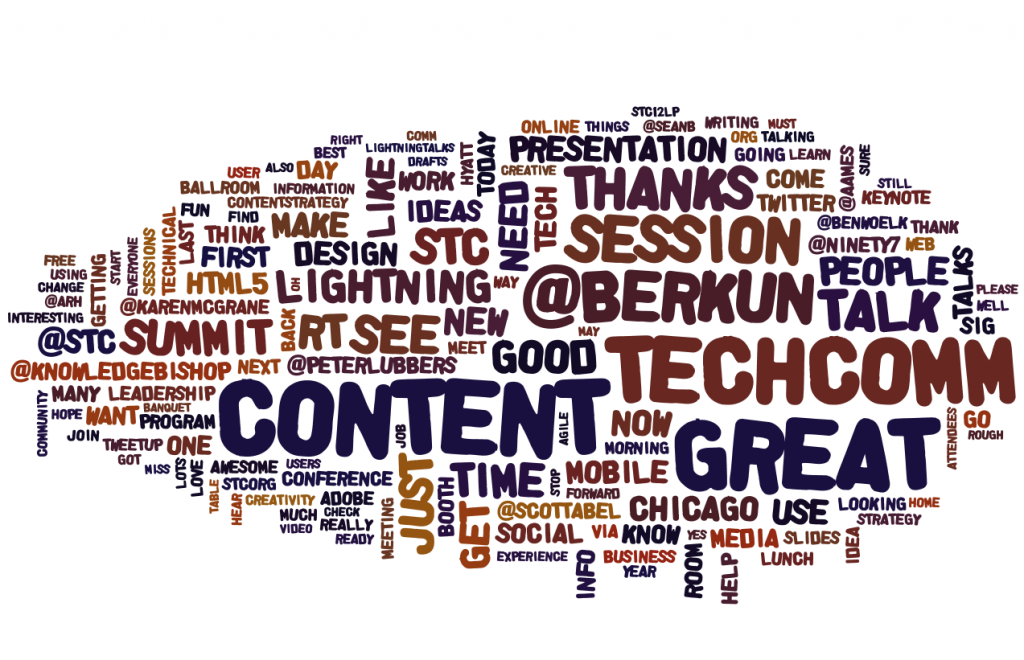 Blogging, Blogging Everywhere
Many attendees blogged about their trip to Rosemont for the Summit, ranging from pre-Summit expectations and a post-Summit wrapup, to posts about specific sessions, to just an overall review. We've done our best to collect as many as possible in one place for your review. If you blogged about the Summit and would like your post included, please email the URL to Kevin Cuddihy. Thanks to everyone who posted their thoughts!
Kai Weber posted five reasons he looked forward to the Summit and then six ways he enjoyed the Summit. See all his Summit-related posts (including some session reviews) at http://kaiweber.wordpress.com/tag/stc12/.
Roger Renteria blogged prior to the Summit about four goals he had for the Summit and then afterwards about his experience in Rosemont and how well he was able to meet his goals. He also provided some tips on how to best navigate the Summit.
Larry Kunz blogged about two sessions at the Summit: his own Lightning Talk on lightening your content and Ellis Pratt's session, What Should Technical Communicators Do When Products "Just Work"? 
Fer O'Neil reviewed Jürgen Muthig's Functional Design presentation. 
Barrie Byron talked about the "afterglow" of the Summit.  
Jessica Behles discusseed how a self-described introvert handled networking at the Summit.
Wendy Ross provided a first-timer's perspective on the Summit.
Student Member John Sherrill logged about the Summit from a student's perspective.
Sarah Maddox blogged multiple times, with a wrapup that links to many of her session-specific descriptions (including the ever-popular Lightning Talks). See all her Summit posts at http://ffeathers.wordpress.com/tag/stc12/.
Ellis Pratt provided his notes from the 2012 Summit.  
Val Swisher gave "random notes" from the Summit.  
Viqui Dill blogged throughout the Summit; see them all here.
Ben Woelk evaluated the tweets posted to the #stc12 hashtag.   
Platinum Sponsor Adobe shared their thoughts (and slides!) from the preconference "thought leader" event.
Photos
Rick Lippencott and Rachel Houghton both have graciously agreed to share their collection of photos from the Summit on Flickr.
DJ Cline also gave permission to share his photos. He categorized his photos into Summit Faces, Summit Reception, Summit Awards, and Summit Expo. He also posted a review of the Summit overall.
TechWhirl set up a photo collection on Pinterest.  
And finally, many attendees joined the Blues Brothers (and Sisters) at the event!  
Don't forget that you can view some of the presenters' slides on SlideShare as well. And if you missed the event, http://www.stc.org/education/technical-communications-summit/summit-at-a-click for the next best thing to being there.
We hope you all had a great time!