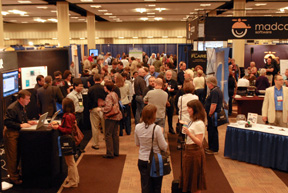 Welcome Reception
Immediately following the Opening General Session there will be a reception in the exhibit hall. The reception will include light snack foods and soft drinks. Beer and wine will be available on a cash basis. This is a fun event where you can talk with exhibitors and catch up with friends. This event is included with your conference registration fee.
Communities Reception
After the sessions end on Monday, get ready for the Communities Reception. This reception starts immediately following the Annual Business Meeting. Members of STC communities and SIGs will be there to tell you about their activities. There will be light refreshments served. This reception is included with your registration.
Honors Banquet
On Tuesday, 7 May, the Honors Banquet will be held to honor the Society's newly elected Fellows and Associated Fellows. This event is a fabulous celebration of your peer's accomplishments.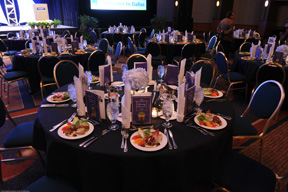 This event is not included with your registration fee, and tickets must be purchased in advance. Tickets are $80 each. You will be able to purchase your tickets and make your meal selection for this event when you register for the Summit. If you prefer, you may purchase a ticket onsite. Tickets will be sold until Noon on Monday, 6 May. Vegetarian and Kosher meals are not available to order if you purchase your ticket onsite.
At the Summit you will need to select a table where you want to sit during the banquet. Full tables for eight people may be reserved only if all eight banquet tickets are presented at the time you make your table selection. Tables must be selected by 5:00 PM on Monday, 6 May. As soon as you arrive at the Summit is not too soon to start organizing you banquet table party!
Closing Lunch
This casual buffet lunch is one last opportunity to talk with old and new friends when the sessions end on Wednesday. Special order meals (vegetarian and Kosher) are not available for this meal. The cost of the event is $10.00 for Summit participants. Additional tickets are $35.00. You must purchase your ticket by Noon on Tuesday, 7 May.