All education sessions (minus the preconference courses), the Opening General Session, Welcome Reception, and exhibit hall at the 2014 Summit will take place at the Phoenix Convention Center. It is located right across the street from the official conference hotel, the Hyatt Regency Phoenix.
Phoenix Convention Center
100 N. Third St.
Phoenix, AZ 85004
Tel: +1 (800) 282-4842
Fax: +1 (602) 262-6225
Located across from the Hyatt Regency Phoenix, the Convention Center is the ideal venue. Inspired by the hues of the Sonoran Desert and the cool tones of the Arizona sky, the Phoenix Convention Center welcomes visitors with natural light streaming in from dramatic architecture reminiscent of the Grand Canyon.
Events of the Technical Communication Summit will take place in the Phoenix Convention Center West Building. How close is that to the Hyatt Regency Phoenix? The image below demonstrates. Visit the website for more information about the Phoenix Convention Center.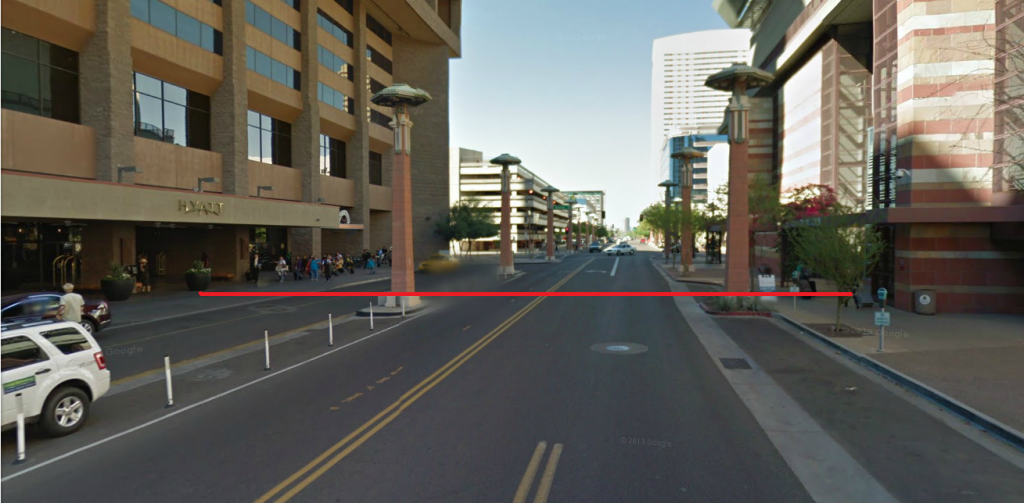 At the entrance to the Convention Center is a Starbucks coffee shop. On the first floor of the Convention Center is Metro Bistro. Metro Bistro serves sandwiches, salads, soft drinks, and much more.
In the block across the street from the convention center you'll find:
Artie's Heavenly Dogs (a mobile food vendor)
Downtown Pizza Lounge
Einstein Bros. Café (Hyatt)
Networks Bar and Grill (Hyatt)
Terrace Café (Hyatt)
Steve's Greenhouse Grill (open early for breakfast)
The Phoenix Convention Center offers free wi-fi in all the public areas of the center. There is a lot of public space in the West Building.