Hyatt Regency Atlanta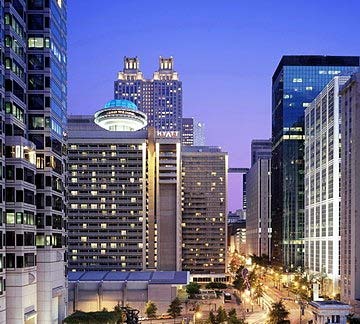 The Hyatt Regency Atlanta has 35 handicap accessible rooms.  If you require one of these rooms STC recommends that you make your hotel reservation early. You can make your reservation when the Summit registration opens. A few days before you arrive you should call the hotel directly and verify that they have this request on your reservation. The hotel phone number is +1 404-577-1234.
The following facilities are available for persons with disabilities at the Hyatt: audio-visual smoke detectors; Braille symbols in elevators; restaurant and in-room dining menus in Braille; wheelchair-accessible peepholes; wheelchair-accessible doors; fitness center is wheelchair accessible; wheelchair-accessible climate controls; public rest rooms are wheelchair accessible; portable bathtub benches are available for all room types; portable bathtub grab rails are available for all room types; wheelchair-accessible sink/vanity and towel racks; wheelchair-accessible closet poles; roll-in showers; close-captioned television decoders; telecommunications device for the deaf (TDD); telephone alerting device; front door alerting device; vibrating alarm clock; portable audio-visual smoke detector; amplifying telephone handset; lamp signals; raised commode seats.
In addition, the hotel's front entrance, front desk and Concierge desk are all wheelchair accessible.
If, for medical purposes, you need a small refrigerator in your room the hotel will provide you one at no charge. You should call the hotel directly a few days before you arrive to make these arrangements.
---
Dietary Requirements
For buffet and reception events STC strives to offer options that meet everyone's dietary requirements. For the Honors Banquet we offer a selection of entrée options that includes beef, fish, vegetarian, and Kosher. You may make your selection at the time you purchase you ticket. The Kosher option is available only for tickets purchased at least two weeks in advance of the event. If appropriate, sauces, gravy, and salad dressings will be served on the side to assist those people who need to avoid gluten. Fresh fruit is available upon request as an alternate dessert.
STC is unable to order "diabetic meals."  Due to the nature of diabetes, you will know best what you need at a specific meal time. The Hyatt has various food outlets where you can purchase anything you need as you monitor your insulin levels throughout the day. If you find yourself in an emergency situation contact the hotel front desk, an STC employee, or a security guard and we will get you the help you need.